Sul Sul,

The time has come - Garages are coming to SimTown!
Take your Sim's dream home to the next level by building the ultimate garage with our Grand Garages Live Event! Park your rides on one of the new parking spaces on the new Family Garage Home lot, on a driveway, or even inside your house! Unlock your creativity by transforming your Garage into an inspirational workshop space! Deck out your new single or double sized garage with tools, storage furniture, and more. Style your entire home with a new range of spectacular gifts, kitchen and homewares, unlockable in the Wedding Presents Live Event, which also features a new red sports car!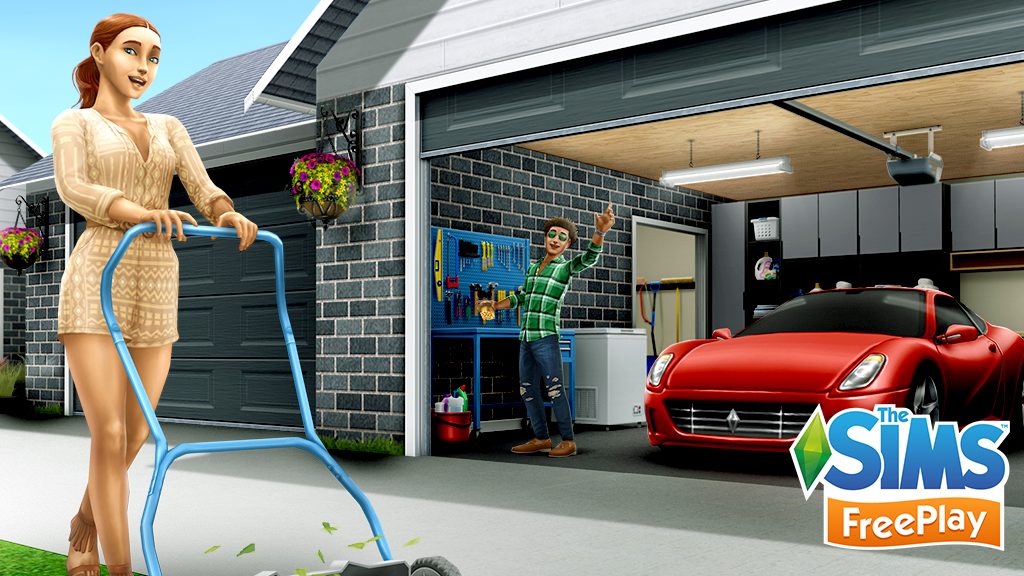 ---
Here are the playable event dates for this update (All dates in AEST):
NEW Grand Garages Live Event: 10-day event starting March 12
NEW Cars on Lots Feature Quest: Available to start from March 12 (no end date)

Visit the Nightclub to begin.

Chocolatier Hobby Event (Gingerbread House) Re-Run: 7-day event running from March 25 - 31
Inner Child's Play Seasonal Quest Re-Run: 7-day event starting March 30
Wedding Bells Live Event Re-Run: 13-day event starting March 30
Hair Hobby Event (Daring Do's) Re-Run: 7-day event running from April 1 - 7
Chocolate Egg Chase Seasonal Quest Re-Run: 7-day event starting from April 10
NEW Wedding Presents Live Event: 7-day event starting from April 19
Things of note:
New Quest Type - Feature Quests
These function as a way to unlock and introduce a new feature
Quest length is shorter than usual, letting you learn about and start using the new feature quickly
Requires paying Simoleons to begin the quest (pricing is scaled based on player level)
No time limit for completion, and no limited time prize
Cars in Lots Feature Quest Notes
Quest Requirements

Car Yard & Nightclub Built
Level 7+
Pay to Enter (Simoleons)

Introduce the ability to place cars on a Home Lot
Quest begins at the Nightclub
Grand Garages Live Event Notes
Gives access to Garage doors, driveways and an extended Build Mode area lot
New Quest Entry Point - The Nightclub
Alongside the Park, Quests can also now start at the Nightclub
The new 'Cars in Lots' Feature Quest will begin here
The Nightclub will be unlocked & built for all players that do not already have it after downloading this update
New Build Mode Categories
Fences category

All Fence objects will be gathered into this new tab.
This update does not have any unlockable Fence content (although the final prize house template for the Grand Garages event does include some fence pieces in it), so this tab will only appear for people that have already unlocked Fences from previous events

Garage doors category

This tab will gather all of the Garage themed content from the new event in this update
New Limited-Time Maternity Packs
A new bonus prize when you complete a 9-Day Pregnancy Event and earn a Baby Bonus
You'll be able to see the Limited-Time Packs on offer during the update, and the dates that they will be available

Store Refresh
In the store, you are now able to see CAS in a 3D spinning model, the same as Build Mode Items

Start building your dream garage in your SimTown today!